Stella Corradi, East London born and bred, is the writer and director behind the short film Little Soldier. Loosely influenced by Corradi's own personal childhood and memories, Little Soldier tells of the power of a child's imagination to overcome her reality. It addresses that tempestuous and deeply instinctive love between a mother and child and how that love transcends any obstacle or circumstance. The film was selected through Film London's London Calling scheme in 2015 out of hundreds of submissions, and has recently been awarded a Special Jury Mention Award by Film London. The film has also been nominated for the Best UK Short at the East End Film Festival 2016. Corradi is a force to be reckoned with.
I was lucky enough to work with Stella on a film shoot in London over the last few weeks. Most days after work she would give me a lift home and we would talk about food, politics and UK grime and garage. I recorded this interview in the car on one of those journeys, whilst she navigated the lane drifters on the A40. 
*
Anuradha Henriques: How did you come to shoot Little Soldier? Stella Corradi: I was working in feature films for several years and was encouraged by the directors I worked for, especially Justin Kurzel (Macbeth) to make my own films and really go for it. It was hard to give up paid work and take the plunge but I finally submitted my script to Film London two years after first writing it. My producer Carol-Mei Barker and I started developing the film and when we won the Film London funding, shit suddenly got real. We teamed up with producers Anna Jancsò and Neta Mor to create a real female-driven dream team. The most important support came from the amazing cinematographer Robbie Ryan. I worked with him on Ginger & Rosa in 2012 and we became friends. He told me "When you're ready, I will help you". Robbie was shooting Andrea Arnold's American Honey in the US which went over and we risked cancelling the shoot but Robbie was adamant that he would be there. He offered his own 16mm camera and all the stock and came to the set straight from the airport after all those months on the road to shoot my film. His commitment was the most encouraging feeling I have ever felt. To have his support and confidence really pushed the whole film through. Everyone involved helped us because of Robbie and wanting to work with him. To the point where a Phantom camera operator came on his day off to let us shoot the paint bomb scene for next to nothing. I was so humbled and touched by the whole experience. AH: We've had a lot of chats about music over the last few days. What is one of your top 10 albums of all time? SC: Jesus! Really?! AH: You gotta sound cool and trendy to your future fans. SC: I'd say one of my top albums is Bonobo's Black Sands, which I was listening to recently and a lot of my friends feature on, including Jack Baker who composed the soundtrack for Little Soldier. Jack is the drummer for Bonobo, and my friend Andreya Triana is one of the vocalists. I grew up with singer songwriter Lea Lea, who was the music supervisor on this film, and she's had a huge influence on my taste. Kelis' Kaleidoscope, Outkast's Aquemini and Q-Tip's The Renaissance also influenced me during the writing process. AH: Does music influence your filmmaking? SC: Definitely. I always wanted there to be a lot of music and dance in my film as an expression of feelings that the central character can't really vocalise. AH: There's one scene that you've cut from the film which was just dance and music. SC: My editor Lee Mckarkiel and I did a first cut which had a lot of music in. I had something like five tracks, which Jack composed which were organised and arranged by LeaLea. She also went and recorded some bass riffs from Chris Hargreaves, who is a phenomenal Dubstep bass musician, on his boat and these were used within the sound design to build tension.  The music was produced and recorded before we actually made the film rather than being scored for the film after the picture lock, which is not how you would usually do it. It was only when we submitted the film to the financiers – Film London – that we were given feedback and realised how leading the music was, so I decided to strip it back. A few people commented that it felt like a sequence of music videos, which I would have been pleased with if Anya's story wasn't so important. Exclusive footage from Little Soldier. Music by Jack Baker, choreography by Leyla Rees.  AH: What is the film about? SC: The film is about a ten year old girl, Anya, who lives with her mother who suffers from addiction. Anya is working for her mother's boyfriend, Derek, who comes between them. To protect her mother and her home, she has to get rid of Derek. She uses her imagination to deal with this reality, to give her power and agency. AH: What were your particular points of reference in making this film? SC: There are a tonne! I love child-driven narratives, so films like Central Station and Wadjda were big influences. And then there were films that I loved like The Goonies, Home Alone and Pan's Labyrinth which have their elements of fantasy and those great 'get your own back' moments. AH: Some other young filmmakers that I've interviewed have spoken about the influence of comics and graphic novels on their work, and how they've included young characters with superpowers as a way of telling complicated and nuanced narratives. SC: I grew up with X-Men, Transformers and Power Rangers – but also shows like Pippi Longstocking – which were all about the kid getting their own back and never underestimating children. That was the story I was interested in. It's loosely based on my childhood. I grew up in Italy in a very rural area where I was always out in the fields, getting up to mischief because I didn't really have parents to look after me. When I moved to London that same kind of mischievousness translated. That was what I found in Amaris Miller, who plays my central character Anya. Even from her first audition there wasn't anything she didn't get. Someone once asked me: what did you have to explain to her about Anya's situation with her mother? And I was like: I didn't have to explain anything, she totally got it. She understood, she could empathise, she could put herself in Anya's shoes. AH: Both Anya and Amaris have a heightened sense of intelligence that you don't necessarily expect in children. There is such an emotional sensitivity and protective nature which comes through in Anya, which are qualities we expect to develop as you get older. SC: Which is not true. Amaris comes from an amazing family, lots of brothers and sisters, amazing mum and grandma – really happy. But I asked her: what would you do if your mum was not well? And she said, "I'd cook her dinner and I'd give her a bath and make sure she's got her pyjamas on." She has an innate ability to empathise, nurture and understand the qualities it takes for a person to look after someone, even if this seems an unjust situation for a child to be put in. AH: How long did it take you to build a sense of trust, enough for you to trust her with your character, and for her to trust you to play your character? SC: That was an amazing experience! I consider her a friend and I think she considers me a friend because we became very close very quickly, and I did that by being open and honest with her, sharing my experiences, speaking to her like an equal, and also by building a relationship with her mum and her twin sister, so it felt like we were going into this together. Her mum and grandma were a huge support during filming, because it was hard, you know? Having a ten year old who's just used to playing games, she's never acted before; work for hours a day is really testing. AH: She did an amazing job. SC: Yeah she did! Our rehearsal process was really interesting too. She asked me a lot about Zawe Ashton who plays her mum: "What's she like? Is she nice?" When we all met on our rehearsal day – which was really us just hanging out getting to know each other – Amaris' mum, Karlie was there talking about their background and making connections people from London do as often we share similar experiences. I didn't want to rehearse any scenes so we started improvising stuff. I just wanted to create a strong bond between Zawe and Amaris. So we started with the assumption that the character of Amanda – Anya's mother – didn't always have a drug problem. She didn't always have a bad boyfriend. We built good memories so that when we came to filming this small window of their life which was a bad period, we could have some history there that would show through. So we asked: how do you imagine your ideal birthday with your mum? And Amaris said: "I'd come downstairs in the morning and my mum would have my favourite breakfast laid out for me, all my favourite things, and maybe we'd go on a trip." So we acted that out. She came downstairs and jumped on Zawe, wrapped her legs around her immediately. Amaris was a natural at improvising and gave so much for Zawe to bounce back to. This creating of good memories meant when it came to the scene where Amanda shakes and shouts at Anya, that was a real reaction from Amaris, real shock, real fear and real tears, because she'd never seen Zawe that way. They'd always only cuddled and had a really nice time on set. We all cried!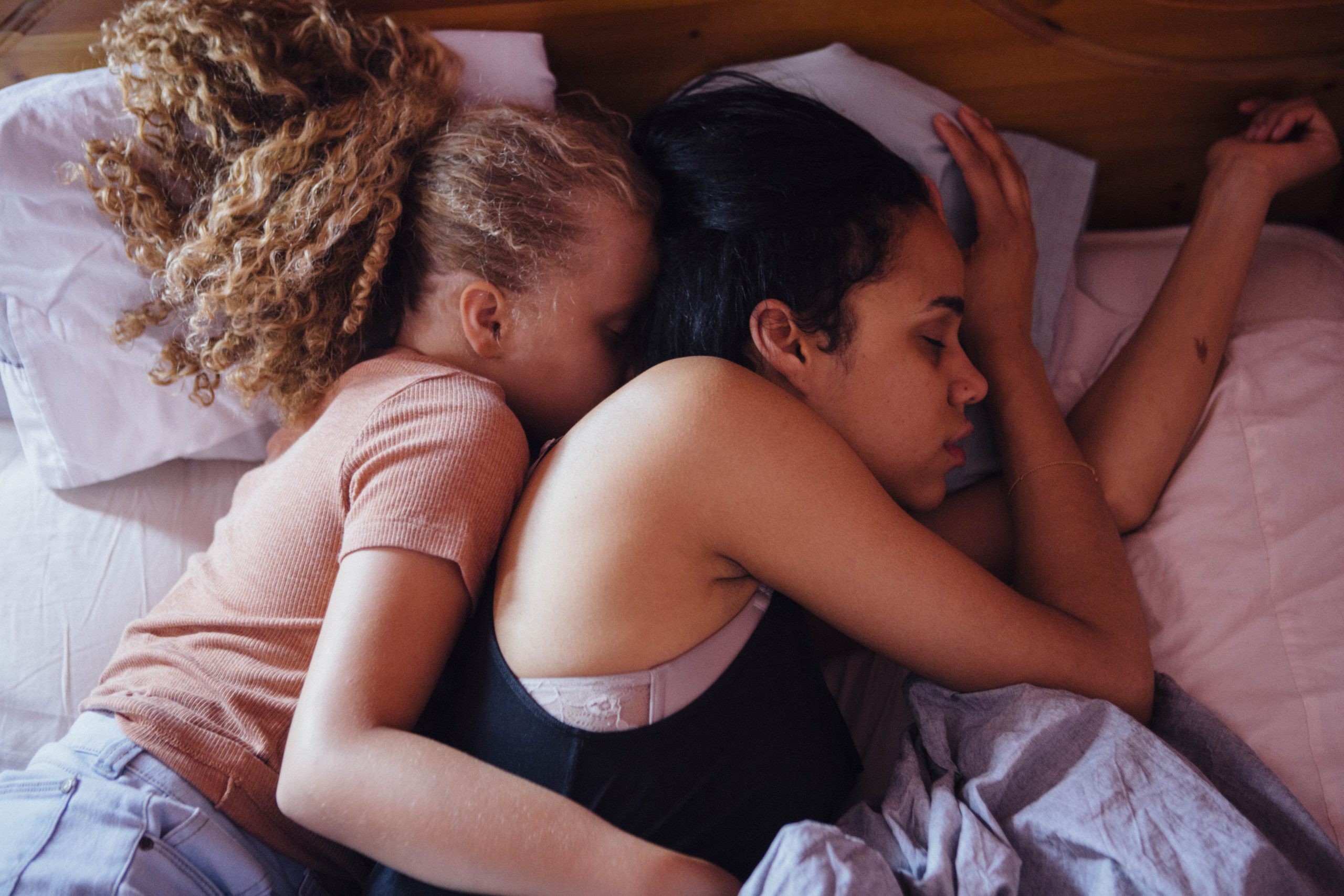 AH: When you're dealing with something like addiction, it is always assumed that it can't be the child who has the solutions. The way you tell this story creates a sense of resilience and hope in Anya, which is a much more truthful and complex way of telling a story of addiction. SC: When it's a parent dealing with a child's addiction, there's a different dynamic. A child will never give up on their parent. Whereas the way I experienced addiction with my family was that the adults became the children, so the children had to grow up very quickly, and look after the adults. But they never gave up on their parents, especially their mother. The story that is always told is that of the love that children receive from their parents, but it's also very much reciprocated. Parents depend on that love from their children in an equal if not stronger way. In fact I find children to often be stronger and more resilient than their parents. AH: Can you talk a bit about this idea of sanctuary, safety and home? Anya creates various layers of safe spaces. She has her fortress within the living room, as well as the fortress of the estate, which comes out in the film in her imagination. SC: Ah I'm glad you picked up on that. There were a lot of scenes that were cut from the original script where I describe the estate as her fortress, her concrete castle, where she was the queen leading her troops into battle. The estate is an extension of her fort. She builds her interior fort within her flat so she can have a space to call her own and feel protected. When she feels frustrated with her mother, she destroys her fort in an almost self-destructive way. Again protecting her mother and taking on the effects of her actions. AH: Why do you think it's important to tell stories of creating and living in communities in estates in London now, in the current housing climate and waves of gentrification. SC: My producer, Carol-Mei Barker, grew up in Barking. I grew up in Islington and Hackney estates, and we went to uni together in Mile End at Queen Mary. We set out to create a different portrayal of the estate. We wanted to show a sense of community and safety because I always felt the safest as soon as I got into my estate. It wasn't dangerous or negative. The people that looked out for you were other families and your friends within the estate. We were sick of this same stereotypical portrayal of violence. I had written in scenes of there being boarded up houses in the estate, and of people being evicted to highlight the problem of gentrification within our boroughs. But I wanted these boarded windows to be colourful, like in the paint-bomb scene. The thing that's unique about housing in the UK is that you've got £2 million homes next to council estates. You may have been separated by building, but you went to school with people from different classes. Your life experience can be different, but you share a space. Now, they are trying to push people out of those spaces, and make it more like the banlieues in Paris. I've lived in Dalston for 25 years, and I've seen my neighbours, my community leaving. Obviously it was difficult to include all of this in our film: music, dance, estates, communities, love… AH: Fantasy becomes Anya's refuge, but it also blurs the line for the viewer between what's real and what's imaginary. Was that something you intended to do? SC: Yes. Definitely. Fantasy and imagination are the ways she deals with her reality. Her reality is also skewed by her own fantasy. There are scenes where we have what seems to be reality, like her breaking in and boobytrapping Derek's flat. During these moments where her imagination exaggerates her reality, I used a specific sound which is like a little wind-chime, and the toy soldiers are there. There are also moments in the park where it's real but she's spinning around, looking up, and there are colourful plastic bags tied to the tree branches, catching the light. Even these moments of reality are subjective.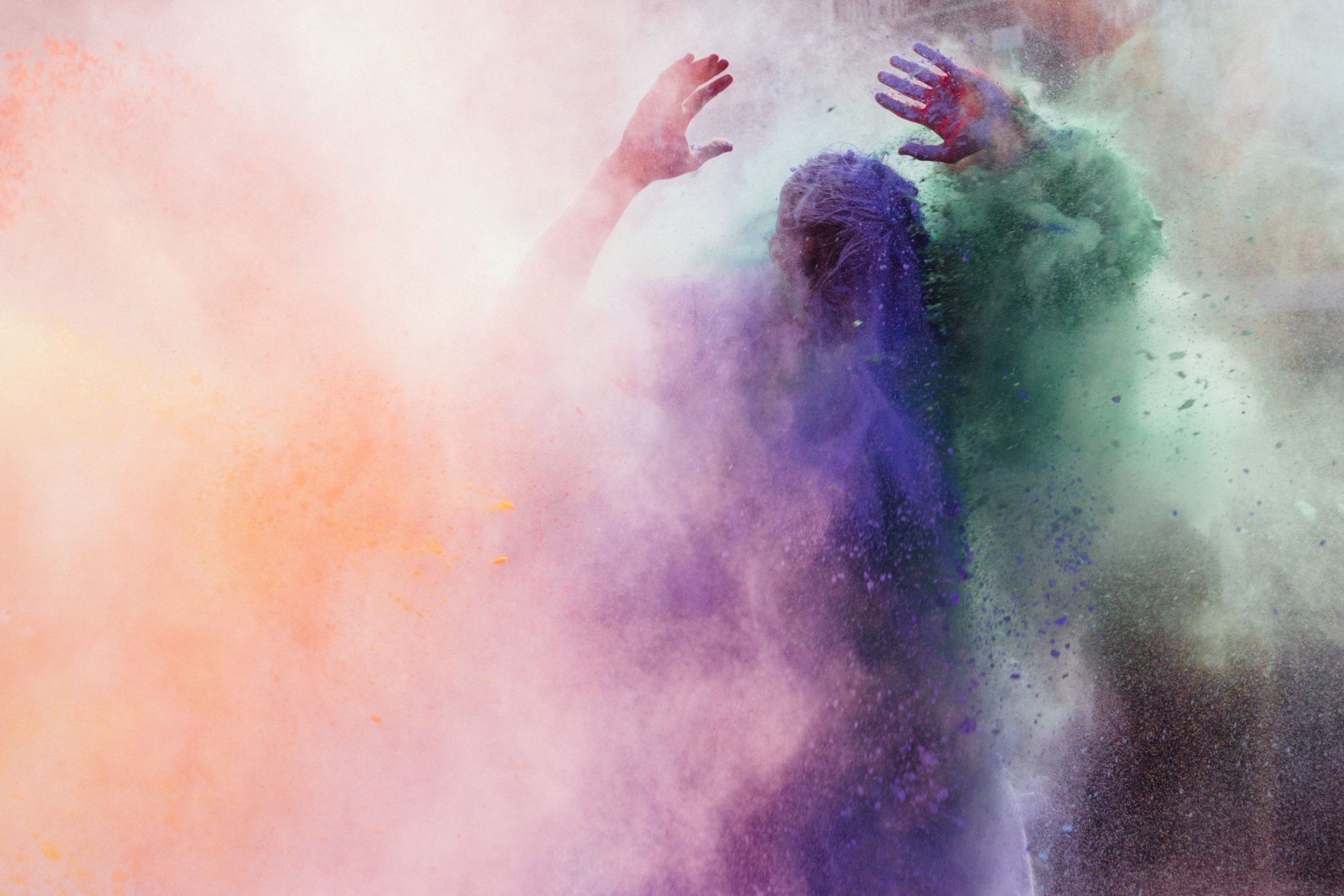 AH: There is a profound moment where Derek tells Anya that they are interdependent on each other, no matter how destructive or unwanted that interdependence may be. What were you trying to say in that scene? SC: For me the interdependency was about creating a family nucleus. I worked with Morgan Watkins (who plays Derek) and Zawe on their relationship, and they were definitely interdependent. In fact, it doesn't necessarily seem that Derek is an addict. He's just a dealer. So between Zawe and him there is a love, a sexual attraction, but also an addiction to each other. He also needs Anya to work for him and travel unsuspected. And then there's also an unwritten element that Derek could actually be Anya's dad who went away for a while and came back. AH: Would that have necessarily changed the dynamic if it was more explicit? SC: No, because he is still coming in between Anya and her mother and Anya still feels like he is a stranger. AH: How did you come to cast Amaris as Anya? SC: Apart from the immediate choice I made when I first met Amaris at our open call casting, where 200 other children turned up, I cast Amaris because she came from a similar class background to myself. She came from Bow, she had a big family, the way she spoke was very normal to me. There wasn't any issue with her being too RP. We clicked immediately because we have that similar language; she understood me, I understood her, we didn't have to communicate that much verbally. It was important to me to cast Anya before her mother. I wanted to choose a mother to suit the child rather than the other way around. AH: Had you worked with Zawe before? SC: I knew Zawe from sixth form college. We hadn't spoken in a long time but I got in touch with her and she agreed to do it on her one day off! I think she is amazingly talented and we had that connection already. And then she connected me with Morgan. AH: In inner city London you can't separate class from race. The majority of working class people in London are people of colour. So your casting, whether conscious or not, is a reflection of this intersection of class and race. SC: Yes, I agree. But at first I subconsciously intended to cast a little girl who has a similar background to me. Because it was a personal story I subconsciously pictured myself in the role of Anya but when I met the right actress to play Anya, it did occur to me that the film would take on other connotations to do with class, race, interdependency and that's how films grow really. The way you cast brings on other layers and I love what the actors brought to my film. The mixed race experience in London is transmitted visually through Amaris and Zawe and in my opinion adds to the narrative, it does not complicate it. Derek, Anya and Amanda are a bi-racial family unit. AH: The theme of our upcoming print edition is "Imagining 2043." Writers have responded to this theme by creating futuristic spaces, where black and brown characters can be narrated into a future that they want to be part of. This kind of sci-fi writing allows for a sense of hope in what the world could be like. It allows for the possibility of (re)imagining a revolution, (re)imagining the fall of capitalism. When I was watching your film I felt like it spoke to this kind of science fiction storytelling that has become so important to young writers of colour. SC: I grew up with music like Sun Ra Arkestra, or Outkast's Aquemini, and one of the biggest inspirations for sound in my film was an Afrofuturist film called The Brother From Another Planet, which is about an alien who lands in Harlem, and blurs that line between sci-fi and reality. The sound design in this film was incredibly unique. They use steel pans throughout the soundtrack, as well as spaceship sounds. Every time Anya was in her fort I wanted that to be her own little spaceship with zero-gravity sounds, which is not an easy thing to create. When I arrived in this country as a child, not speaking English, the first time I felt included was in my school steel band. I have been playing ever since and it's a huge part of my upbringing and culture. I recorded a track called Toy Soldiers written by Lea Lea and Jack Baker on the steel pans and we got the kids from the film to record the vocals. AH: That was my favourite element of the film. It's not just about imagination, it's science fiction. SC: Yeah! I loved that too. AH: Junot Diaz has said that immigrants are the OG time travellers. You come from your home to a strange place, with strange customs, where you don't speak the language. SC: You're an alien! AH: Exactly! SC: I remember talking with Zawe about her character's background. And for some reason we felt she could be Afro-Cuban. So there are elements of the production design (by Paulina Rzeszowska) that reference Afro-Latin culture and Orishas. I didn't want her house to be a run-down crack house, that people imagine every single council estate flat to be. I wanted it to be beautiful and their home. It's from a time when Amanda was better and cared about their space. I wanted there to be colour and for it to feel alive, rather than a place of neglect. I think a lot of people who haven't had a lot of experience of addiction assume the film is dark and heavy, that Amanda is neglectful of her daughter. But I never saw it like that. I always saw it as Amanda is trying to do her best for her daughter, and Anya is also trying to do her best for her mother. But everyone is limited by their experience and by their physical capability. Amanda does intend to celebrate Anya's birthday, but is unable to. And that could have been because of anything: depression, fatigue – she could be ill, you know? A lot of reasons that don't necessarily have to be addiction or neglect. AH: Everyone looks for their own stories in films and books. What you've just described is a multi-layered, multi-faceted narrative that many people can relate to. SC: I think it's important to say that the character of Amanda is not based on my stereotype of working class people from an estate. Amanda's addiction is based on my family experience, which actually started before we moved to this country, when we were in Italy. So it's not something that's caused by living on an estate, or living in poverty, or being of a certain race, or class. The experience I had was as a white European immigrant. I didn't want to see Amanda shooting up or taking drugs. I wanted people to be able to relate to her, whether that is in the love she has for her partner, or her choosing her partner over her daughter, which happens in a lot of families where drugs aren't necessarily involved.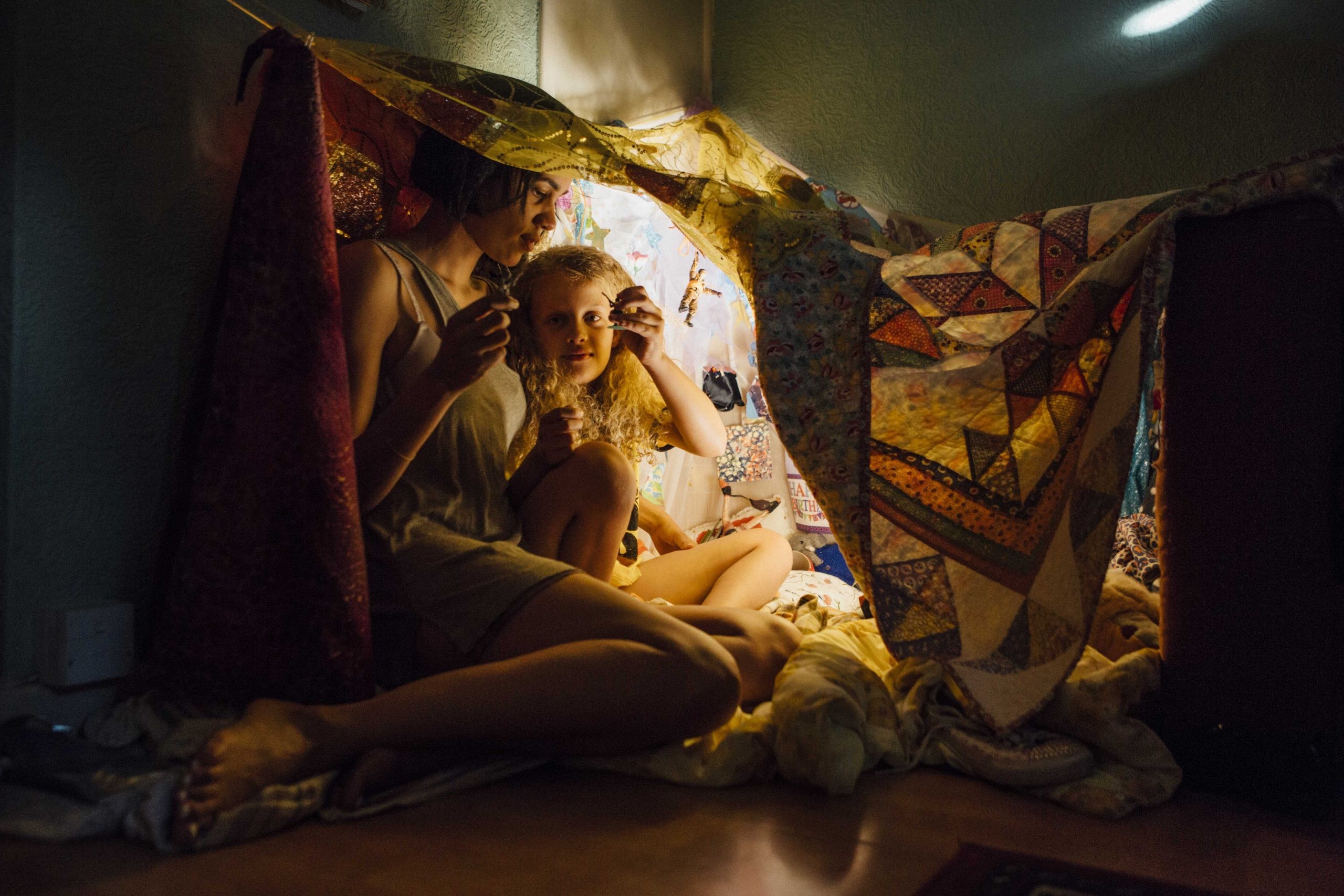 AH: What is your next film going to be about? SC: I've written like 10 shorts scripts since Little Soldier! I really thought that once I had made one I would be on a roll, and I'd be able to make one after the other. I love the short film format, I think it's such good practice for me. The way I write anyway, everything starts from a short story, rather than in script form. Since Brexit I've started writing a script based on my first day of school in London. I didn't speak English and my grandmother and uncle were trying to prepare me for what school might be like. I was told to hold hands with another Italian girl but we spoke different dialects and couldn't understand each other. Later that day I learnt to make friends through sign language. A thumbs up meant we were friends and we hugged each other. I eventually was put in a class where we were all learning english for the first time – Bengali kids, Turkish, Chinese, Ivory Coast – we were all in the same boat and we quickly adapted and integrated. The UK I arrived in 25 years ago was a welcoming place, there was unity and empathy. I can't believe what it's becoming today. AH: What kind of films do you want to see being made? SC: Working class films. I think the film industry is too one-dimensional. The people that have power do not have the experiences that people are interested in seeing. They have to fake it, it's not sincere. You may have grown up working class, but when you cross over into another realm of your career and you ignore that past, then you've lost something. Which is why I admire Ken Loach. He's never let that part of him go. He's always worked to bring the working class narrative to the foreground. I think someone like Andrea Arnold is a lot more liquid and flexible. I see my career being more like that: trying new things but always bringing real human experience into it. AH: I've been watching a lot of American TV series recently because I am more likely to find stories I can relate to – normal brown people doing normal things. SC: In the past five years TV has definitely crossed that barrier of people thinking it's going to be unsuccessful or not make money if you cast non-white female actors as protagonists. AH: Exactly! Star Wars: The Force Awakens, starring John Boyega and Daisy Ridley, was the highest grossing Star Wars film ever made. SC: But I feel TV in the UK has gone backwards. When I grew up we had shows like Goodness Gracious Me, The Real McCoy, Desmonds, Grange Hill – what we were watching was a lot more diverse. I swear it was never as white as it's been recently. AH: What advice do you have for young filmmakers who want to tell these less 'popular' narratives? SC: My advice to young filmmakers would be to never compromise your vision. It's yours, that's what makes it unique. When you get into the world of financing for your film you realise that everyone has an opinion on what you should do and can impose their opinions onto your vision. It's hard to keep sight of what you set out to do but you will only regret it if you don't. You will not regret mistakes you make out of your own volition, you will only learn from them but you will regret going against your instincts.   Little Soldier will be available to watch on Vimeo towards the end of the year after finishing its run on the festival circuit. Follow @LittleSoldierUK and @tweetskindeep to make sure you don't miss it.